Page 7 - European Energy Innovation magazine - autumn 2022 edition
P. 7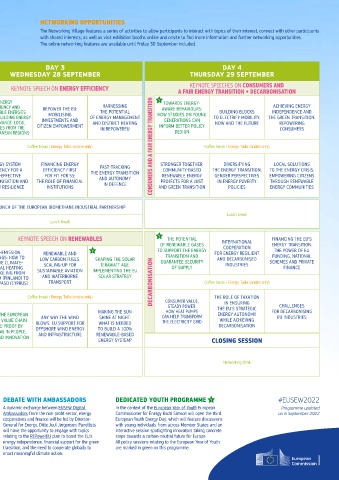 26-29 September 2022  NETWORKING OPPORTUNITIES
 EUROPEAN SUSTAINABLE ENERGY WEEK  The Networking Village features a series of activities to allow participants to interact with topics of their interest, connect with other participants

 Explore the programme on the event platform. Click on the sessions for direct access.  with shared interests, as well as visit exhibition booths online and onsite to find more information and further networking opportunities.
               The online networking features are available until Friday 30 September included.
 ONLINE / ONSITE (CHARLEMAGNE BUILDING, BRUSSELS)

 DAY 1  DAY 2    DAY 3                                                         DAY 4
 MONDAY 26 SEPTEMBER  TUESDAY 27 SEPTEMBER   WEDNESDAY 28 SEPTEMBER   THURSDAY 29 SEPTEMBER

                                                                    KEYNOTE SPEECHES ON CONSUMERS AND
 09.00 - 09.30  KEYNOTE SPEECH ON REPowerEU  KEYNOTE SPEECH ON ENERGY EFFICIENCY  A FAIR ENERGY TRANSITION + DECARBONISATION

 09.30 - 10.00  FAST TRACK    GREENING THE    ENERGY    HARNESSING    TOWARDS ENERGY-            ACHIEVING ENERGY
 EFFICIENCY AND
 OPENING SESSION  LESSONS ON CLIMATE   TO AFFORDABLE, SECURE   PIPELINES: THE ROLE OF   RENEWABLE ENERGIES    REPOWER THE EU:   THE POTENTIAL    AWARE BEHAVIOURS:    BUILDING BLOCKS    INDEPENDENCE AND
 10.00 - 10.30  NEUTRALITY AND ENERGY   AND SUSTAINABLE   BIOMETHANE IN EUROPE'S   TO DRIVE BUILDING ENERGY   MOBILISING    OF ENERGY MANAGEMENT   HOW STUDIES ON YOUNG   TO ELECTRIFY MOBILITY:   THE GREEN TRANSITION:
 INDEPENDENCE    ENERGY: THE GREEN DEAL   SUSTAINABLE ENERGY   PERFORMANCE: LOCAL   INVESTMENTS AND    GENERATIONS CAN
 FROM THE EU ISLANDS  TO BOOST RES    TRANSITION AND ENERGY   EXAMPLES FROM THE   CITIZEN EMPOWERMENT  AND DISTRICT HEATING    INFORM BETTER POLICY   NOW AND THE FUTURE  REPOWERING
                                    IN REPOWEREU
                                                                                                   CONSUMERS
 10.30 - 11.00  Coffee break  AND EFFICIENCY  SECURITY  MEDITERRANEAN REGIONS  DESIGN
 11.00 - 11.30  REPowerEU  Coffee break / Energy Talks (onsite only)  ENERGY EFFICIENCY  Coffee break / Energy Talks (onsite only)  CONSUMERS AND A FAIR ENERGY TRANSITION  Coffee break / Energy Talks (onsite only)
 EUSEW AWARDS
 CEREMONY
 11.30 - 12.00  ENERGY SYSTEM   FINANCING ENERGY         STRONGER TOGETHER:     DIVERSIFYING     LOCAL SOLUTIONS
 REPOWEREU: SAVE                    FAST-TRACKING
 ENERGY, DIVERSIFY,  THE COMMODIFICATION    RENEWABLES   EFFICIENCY FOR A   EFFICIENCY FIRST    THE ENERGY TRANSITION   COMMUNITY-BASED   THE ENERGY TRANSITION:   TO THE ENERGY CRISIS:
 12.00 - 12.30  OF GREEN HYDROGEN    DEPLOYMENT:    COST-EFFECTIVE   FOR FIT FOR 55:    RENEWABLE ENERGY   GENDER PERSPECTIVES    EMPOWERING CITIZENS
 DEBATE WITH    BUILD A GREENER EU  FOR EUROPE  DOUBLE THE SPEED  DECARBONISATION AND   THE ROLE OF FINANCIAL   AND AUTONOMY    PROJECTS FOR A JUST    IN ENERGY POVERTY   THROUGH RENEWABLE
 AMBASSADORS  ENERGY SYSTEM  ENERGY RESILIENCE  INSTITUTIONS  IN DEFENCE  AND GREEN TRANSITION  POLICIES  ENERGY COMMUNITIES
 12.30 - 13.00


 13.00 - 13.30  LAUNCH OF THE EUROPEAN BIOMETHANE INDUSTRIAL PARTNERSHIP
 Lunch break  Lunch break                                                        Lunch break
 13.30 - 14.00     Lunch break


 14.00 - 14.30  EUROPEAN YOUTH    KEYNOTE SPEECH ON DIGITALISATION  KEYNOTE SPEECH ON RENEWABLES  THE POTENTIAL    INTERNATIONAL   FINANCING THE EU'S
 ENERGY DAY                                              OF RENEWABLE GASES    COOPERATION      ENERGY TRANSITION:
                                                                                                 THE POWER OF EU
 14.30 - 15.00  'How to ensure that Europe's    THE POWER OF DIGITAL   SUPPORTING    REPOWERING EUROPE    ZERO-EMISSION   RENEWABLE AND    TO SUPPORT THE ENERGY   FOR ENERGY RESILIENT   FUNDING, NATIONAL
                                                           TRANSITION AND
 future energy independence    INNOVATION HUBS    INVESTMENTS    BY EMPOWERING    BUILDINGS: HOW TO   LOW CARBON FUELS:   SHAPING THE SOLAR   GUARANTEE SECURITY    AND DECARBONISED   SCHEMES AND PRIVATE
 ACHIEVE CLIMATE-
                SCALING-UP FOR
                                    TERAWATT AGE:
 TO ACCELERATE
 15.00 - 15.30  is sustainable'  THE DIGITALISATION   IN INNOVATION FOR   ENERGY COMMUNITIES:    NEUTRAL HEATING   SUSTAINABLE AVIATION   IMPLEMENTING THE EU   OF SUPPLY  INDUSTRIES  FINANCE
 A PERSPECTIVE ON
 AND COOLING FROM
 OF EUROPE'S ENERGY   A MORE DIGITALISED   DIGITAL AND SOCIAL   NUORGAM (FINLAND) TO   AND WATERBORNE   SOLAR STRATEGY
 ELECTRICITY GRID
 15.30 - 16.00  Coffee break  TRANSITION  INNOVATION  RIZOKARPASO (CYPRUS)  TRANSPORT  DECARBONISATION  Coffee break / Energy Talks (onsite only)
 16.00 - 16.30  DIGITALISATION  Coffee break / Energy Talks (onsite only)  RENEWABLES  Coffee break / Energy Talks (onsite only)  THE ROLE OF TAXATION
 EUROPEAN YOUTH                                            CONSUMER VALUE,      IN ENSURING
 ENERGY DAY                                                 STEADY POWER:    THE EU'S STRATEGIC    CHALLENGES
 16.30 - 17.00                      MAKING THE SUN         HOW HEAT PUMPS                       FOR DECARBONISING
 'How will our energy future    MAKING THE EUROPEAN   ANY WAY THE WIND   SHINE AT NIGHT:    CAN HELP TRANSFORM    ENERGY AUTONOMY   EU INDUSTRIES
 look in 20 years?'  DATA EXCHANGE AND   ENERGY TRANSITION,   MAKING DATA CENTRES    BATTERY VALUE CHAIN   BLOWS: EU SUPPORT FOR   WHAT IS NEEDED    THE ELECTRICITY GRID  WHILE ACHIEVING
 17.00 - 17.30  GOVERNANCE MODELS    DIGITALISATION AND   IN EUROPE SUSTAINABLE  FUTURE-PROOF BY   OFFSHORE WIND ENERGY   TO BUILD A 100%   DECARBONISATION
 FOR ENERGY DATA HUBS  CYBERSECURITY  INVESTING IN PEOPLE,   AND INFRASTRUCTURE  RENEWABLE-BASED
 SKILLS AND INNOVATION
 17.30 - 18.00                      ENERGY SYSTEM?                         CLOSING SESSION
 18.00 - 18.30
                                                                               Networking drink
 18.30 - 19.00


 WHAT TO EXPECT FROM THE POLICY CONFERENCE:

 PLENARIES   KEYNOTE SPEECHES   EUSEW AWARDS CEREMONY  DEBATE WITH AMBASSADORS  DEDICATED YOUTH PROGRAMME  #EUSEW2022
 Featuring high-profile speakers such as    Impactful speeches from key actors in energy policy   The European Sustainable Energy Awards   A dynamic exchange between EUSEW Digital   In the context of the European Year of Youth European   Programme updated
 European Commissioner for Energy Kadri Simson,   set out the priorities for Europe's energy transition.   recognise outstanding individuals and projects    Ambassadors from the non-profit sector, energy   Commissioner for Energy Kadri Simson will open the third   on 6 September 2022
 Executive Vice-President Margrethe Vestager,    Expect insightful contributions on the REPowerEU   for their innovation and efforts in energy efficiency   cooperatives and finance will be led by Director-  European Youth Energy Day, which will feature discussions
 and representatives from the Czech presidency   plan, Digitalisation, Energy Efficiency, Renewables,   and renewables. The Awards Ceremony will bring   General for Energy, Ditte Juul Jørgensen. Panellists   with young individuals from across Member States and an
 of the Council, the Ukrainian Ministry for Energy   Consumers and a Fair Energy Transition,    together European Commissioner for Energy    will have the opportunity to engage with topics   interactive session spotlighting innovators taking concrete
 and the European Parliament, the Opening and   and Decarbonisation.   Kadri Simson, members of the high-level jury    relating to the REPowerEU plan to boost the EU's   steps towards a carbon-neutral future for Europe.
 Closing Ceremonies will present the EU's key   These keynote interventions are the prelude    and the finalists of the four categories in order    energy independence, financial support for the green   All policy sessions relating to the European Year of Youth
 priorities for the energy transition in the context   to the thematic block on the topic addressed.  to announce the winners in Innovation, Local   transition, and the need to cooperate globally to   are marked in green on this programme.
 of the REPowerEU plan and Europe's Green Deal.   Energy Action, Woman in Energy, and Young   enact meaningful climate action.
 Energy Trailblazer.